Best Extensions for Google Chrome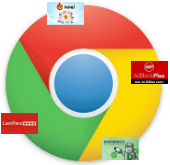 Like most people today, my web browser of choice is Google Chrome. Google Chrome is a very fast and solid browser. However, no browser is complete without right set of Extensions. Using extensions can significantly enhance Chrome and improve your Internet experience.  In this article I am going to list the best Chrome Extensions that I think are most useful. This list based on my own experience with the extensions.
AdBlock Plus (ABP)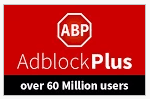 This is THE extension that web users shouldn't be without! Web is littered with annoying advertisements and other junk today and Adblock Plus can get rid of almost all of them. Already used by millions, this extension can even get rid of video ads on sites like Youtube. Furthermore, Adblock has optional features to block session tracking and malware sites. This is usually the first extension I install after installing a web browser.
Adblock Plus is an open-source project with very active user community. The signature list and features are updated on a regular basis. Therefore, you can trust this extension to be reliable.
This extension is also available for Firefox, Safari, Opera and Android devices.
Install for Chrome
Developer Website
Note: there is another extension for Chrome called Adblock (without the plus) that does the same thing as Adblock Plus. However, recently there's been some controversy about this extension and closed nature of its project! Better to steer clear of this.
Disconnect
Disconnect is a privacy extension that can protect you against online tracking! Our online privacy is openly violated by corporations and governments these days; everyone should have a privacy extension to block tracking. Disconnect can block 2000+ tracking sites and can even make your pages load faster. In my opinion Disconnect is the best compared to other similar privacy extensions with its large database and feature set.
Disconnect is also available for Firefox, Safari and Opera
Install for Chrome
Developer Website
DoNotTrackMe

DoNotTrackMe is another privacy extension that does a good job blocking trackers and other malicious content. What is special about this is that it has a free feature to create disposable email addresses when you register on untrusted websites. I think this is a great feature to protect your email address from spam. This feature alone can make this extension a good alternative to Disconnect. This extension is also available for all major browsers.
Remember: only use one privacy extension or it will cause weird problems!
Install for Chrome
Developer Website
LastPass

Problem with passwords is that you know you shouldn't reuse them, you know you have to make them long and complex and you know you shouldn't write them down. But in reality this hardly happens. For most people remembering long complex passwords is a hard task. But fear not, LastPass can not only generate strong complex passwords, it can even remember and auto-enter them for you. You no longer have to remember lots of passwords when surfing the web. Since you don't have to type your passwords, this might even protect you from some key loggers.  LastPass even warns you when you're reusing passwords.
This extension is a must have if you have lot of login accounts. Also Supports Internet Explorer 8+, Firefox, Safari and Opera
Install for Chrome
Developer Website
Google Dictionary (by Google)

This extension lets you find word definitions as you browse the web. You no longer have to type words into Google for definitions. Simple but useful, just by double clicking a word shows you the definition in a small pop-up bubble. This extension can even identify foreign words and translate it to your language of choice. Very handy if you do lot of reading online.
The Great Suspender

This extension has a funny name, but it can be really useful to users who like to open gazillion tabs! Great Suspender can suspend unwanted tabs temporarily so they will only load when you click on them. This can save Chrome from slowing down due to lack of resources. You can even set it to suspend pages after a set time. This is great if you have to restart Chrome with lot of tabs.  Well until Chrome introduce a native option to stop tabs from auto-loading like in Firefox, this extension will do the job.
Summary
In this article I listed the Google Chrome extensions that I believe will benefit most users. You can find many more extensions in the Chrome Web Store. Some extensions are only useful in certain situations and there are others that are buggy and don't work properly. So before installing, make sure you read user reviews. Remember: installing too many extensions can slow down your browser. Therefore, stick to the extensions that you really need!
If you like this article, please don't forget to share. You can also follow me on twitter and LinkedIn.